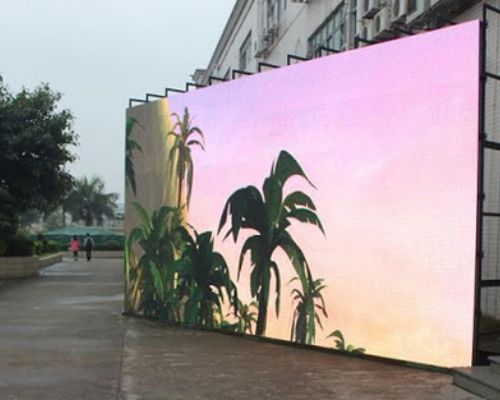 LED Video Walls
 LED Video walls are designed to deliver high quality imagery with a seamless viewing experience. These LED displays installed at any location, greatly increase interaction between the brand and customer. High dynamic contrast combined with 22-bit colour depth enables you to see intricate details and experience vivid colours like never before. Rendering millions of pixels at ultra-high speed brings content to life
Save up to 50% on your energy bills with our common cathode technology that uses special power saving IC and high efficiency PFC power supplies. Our smart diagnostic technology monitors and reports the real time status of the display components for critical applications. Track pixel failure, cabinet voltage, temperature, humidity and fan speed from the comfort of control room.
Suitable for indoor applications like lobbies, retail stores, boardrooms, etc, these displays are designed with SMD technology. Rich color-reproduction, superior resolutions, and overall spectacular viewing experience are what you can expect from our TrueColor™ LED video walls. Robust design and high brightness are two key features of our outdoor LED video walls. The product range consists of outdoor displays with features like energy saving, high brightness, finer pixel pitches for outdoor, water resistance, etc.
Believing in the beauty of precision, we are a promising Indian Brand advancing towards transformation and constant innovation. The latest fine pitch technology brings the pixels closer to delivers utmost clarity and superiority while displaying any content. The richness of the content is crystal clear due to the optimum contrast, brightness, colors and grey scale technology of the display.
What is a video wall?
A video wall (also known as display wall) is a large visualization surface consisting of multiple displays. Originally, they consisted of multiple televisions or monitors that were put closely together. The objective was to make it seem as one large display surface. The problem however was the large frame (or bezel) that surrounded the useful display surface of each television. This completely tore down the effect of a single canvas and ruined the visual performance. Therefore, new technologies were introduced to minimize the 'dead pixel space' between the different displays.
Typical application areas include control rooms, meeting rooms, digital signage and other demanding environments.
Although these different technologies have very distinct merits, answering specific needs of users, they have a number of things in common. They all:
Need a video wall controller to get content on the screens
Are very flexible regarding size (number of individual displays)
Need a calibration mechanism to ensure that all individual tiles have the same brightness and color settings. Barco's automatic calibration technology does this in real-time, both calibrating single displays and entire walls
Require a minimal inter-tile gap (or ultra narrow bezel) to counter the 'raster effect'
LED technology
LED technology is used to create the most impressive video walls. They are very bright and are often not only used to inform or to collaborate, but also to wow audiences. For example in retail & advertisement settings, during spectacles or live performances, LED video walls are used. Due to recent price-drops for LED video walls, they have become in reach of most corporations, to use in control rooms or corporate lobbies. The LED display tiles consist of many individual color LEDs. The pixel pitch can be quite large when they are watched from afar (for live performances for example), or very small (for control rooms or lobbies.