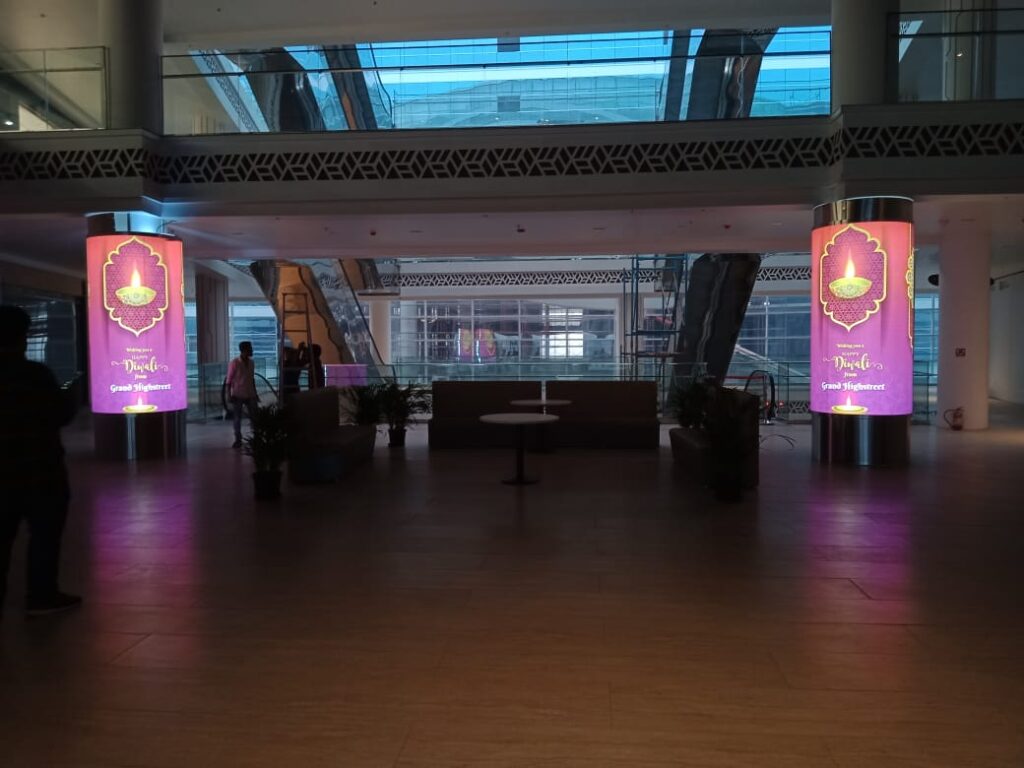 Pole Kiosk
Pole kiosks are an outdoor medium of advertisement that supports consecutive message display with affordability to reach to an on-the-road/street audience. Advertisements of this sort are constantly before the eyes of the observers on the streets as they are displayed in a sequence of poles and allow for repetitive viewer-ship. They can be designed with back-lit boxes, but most of the time they are automatically illuminated by the lights on the poles on which they are displayed.
Kiosks support complete flow of communication of a particular campaign through a string of information- right from introduction to benefits to contact information- being sequentially displayed on successive poles. Because these are very small in size (not more than 3-4 words per kiosk), unlike billboards, so the message has to be precise and legible to fast moving traffic. Longer messages can, however, be placed over 2-3 consecutive boards. Campaigns using 3-5 consecutive boards must have some consistency in communicating as a single campaign.
We are among the leaders of Kiosk Poles Trader and Kiosk Poles suppliers. New materials and years of experience has resulted in this advanced optimum quality product. Our exclusive variety of kiosk poles have gained lots of popularity in the patronage of the market demand. Kiosk poles supplied by us are easily searchable in an array of sizes to suite every type of need that might be there. The terms like unique and exclusive appear out to most appropriate if one starts looking for the words to describe the quality of kiosk poles provided by us. Kiosk poles are the perfect outdoor advertising product that is cheap as well as effective. So go ahead and avail the opportunity of reasonable prices and conduct a blissful purchase from us.
Pole Kiosks –one of the most efficient and impressionable ways of advertising and branding. It is one of the most commonly seen advertising mediums. Pole Kiosk Advertising comprises of putting up small and compact advertising panels on electric poles, back to back in a row on major city roads. Being placed back to back at extremely short distance, the same ad gets viewed again and again by the audience. This medium has a lot of popularity amongst advertisers at present and it is available in all cities and all big and small roads.
Pole Kiosk advertising comes with several advantages for advertisers
It is very important for advertising mediums to stand out from the environment in order to catch the public's eye. Pole Kiosk branding can be very advantageous for any brand if carried out carefully and strategically. These small yet conspicuous ads are very effective in getting the attention of the passers-by and increasing brand awareness among them.
While size is an important factor when it comes to enhanced visibility but when it comes to Pole Kiosk ads their rather smaller sizer in no way hinders their ability to create an impact on the intended audience. Even though compact, their attractive designs and messages easily catch people's eyes creating a long-lasting impression on the viewers minds.
The frequency at which the audience gets exposed to the ad creative is a very important factor that determines the impact that it leaves on the audience. It is a proven fact that audience tends to have greater likability and memory of the ads that they see repeatedly. Since Pole Kiosk ads get placed back to back across a wide stretch at short distances, it leads to repeated exposure ensuring better a recall rate.
One feature that distinguishes these ads from the ads on television, radio and a lot of other mediums is that they cannot be skipped or ignored easily. Besides this it does not even require the viewer to consciously access the medium before the ad can be presented,
Since people passing by these ads can belong to all classes of people these ads can effectively target both upper and lower segments of the society. With the correct placement of these ads in the right areas would allow brands to reach out to their targeted demographic easily.
And while one might believe that with the emergence of the various new ad spaces there medium might have lost its importance but it is not so. Pole Kiosk ads are far from being obsolete. Though it is one of the traditional mediums when it comes to outdoor advertising, they are still very impactful and which is why they continue to share a large part of the advertising budget of most big brands.
Targeting is the key to effective advertising, any flaw in targeting can lead to serious consequences for the advertiser and their brand. Not only would it increase the cost of the campaign but also have negative impact on the sales. Geo-targeting is one of the very important ways of targeting and pole kiosk ads can provide the level of geo-targeting that is necessary to reach out the right audience. The advertisers get to choose the exact city, area and even the street that they wish to advertise on.
One major hurdle that OOH ads suffer is the competition that they face form other outdoor ads. Since there multiple large format ads of different brands next to each other it is easy for the viewer to get distracted something that is not favourable. But with Pole Kiosks, since the same brand is able to place their ad across the entire street, it gives the brand a clutter free and effective exposure. There is less competition from other ads for audience's attention.
Affordability is another major and very obvious concern for advertisers while selecting the advertising mediums for their campaign. With the large number of people that view Pole Kiosk Ads, the cost per reach is significantly low making them extremely affordable. Moreover, unlike other mediums where advertisers have to pay more to advertise during prime-time slots, with this medium your gets visibility even during peak hours when traffic is the highest at no extra cost.
With this medium, advertisers also have the choice to have their ads be seen 24×7 by opting for illuminated ads. The backlit pole kiosks have night time visibility as well. Besides the visibility the backlit illumination gives a very attractive look to your ad.
Why hire Excellent Publicity for Pole Kiosk Advertising Campaign?
"The name says it all"
Excellent Publicity is an emerging and fastest growing advertising agency headquartered Ahmedabad with branch setups in Mumbai, Pune, Surat & Vadodara started its journey in the year 2012. Excellent Publicity is the one stop solution to provide best services to have remarkable ad campaigns all over the nation. We have as many years of experience in media buying, planning and execution and can provide high quality services with comparatively lower rates. Team Excellent has served thousands of clients and helped them in promoting their brands and reach the target audience successfully.
We at Excellent Publicity truly believe that client satisfaction is the main focus and mission of our organisation and thus, all our efforts are focussed on providing our clients with premium quality service in order for them to get the best results. With the large range of alternatives that we provide, our clients can flexibly choose the option that best suits their needs, message, brand and budget.
Team excellent is a talented, enthusiastic and well experienced group of people who provide a focused and to the point assistance to their clients and works with the motive of providing high quality services that combines creativity and value pricing. With Team Excellent's innovative ideas you can have ad campaigns that cut across all boundaries.
Our work speaks for itself when you see our clientele consisting of some of the most reputed brands of the world and India including Google, Swiggy, Indigo Airlines and various others. Besides this we have worked with brands of all types and sizes to provide them with advertising services that has the best reach with their target audience. Our campaigns not only have helped brands increase their sales in the short run but have also done wonders for their long-term brand image. With our flawless execution and dedicated efforts, we have never given our clients a reason to complain.