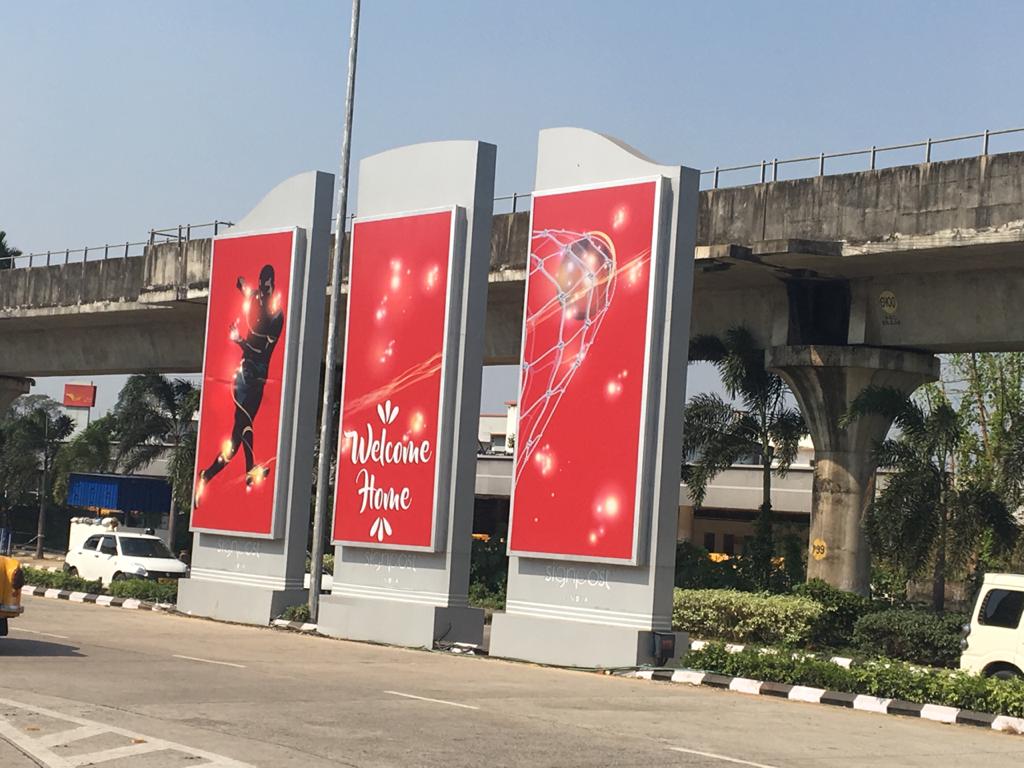 Pylons
Pylon signs, also known as pole or freestanding signs, are well known in the sign industry. Simply put, pylon signs are outdoor signage that is usually mounted on single or double poles. Pylon signs can be one-sided or double-sided, depending on the direction the sign will be facing.
It's time to raise the bar and get seen with a pylon sign for your business. Often viewed from roadways and interstates out the car window are signs that rise above the shopping mall and plazas. These towering signs are known as pylon signs, and they are the golden standard for most businesses, such as churches, restaurants, medical facilities, and even apartment complexes. Pylon signage helps you stand out from the competition by maximizing your advertising efforts and brand recognition.
What Are Pylon ?
Pylon signs, also known as pole or freestanding signs, are well known in the sign industry. Simply put, pylon signs are outdoor signage that is usually mounted on single or double poles. Pylon signs can be one-sided or double-sided, depending on the direction the sign will be facing. You may also see pylon signs that are illuminated or have other elements, like LED message center.
A single business will often have pylon signs that feature a single lightbox with the company's name and brand logo on display. Pylon signs that are found at shopping centers or malls will have several lightboxes built into the sign, and the base is often similar to the overall architecture of the plaza. These signs might have brick, stone, or metal elements.
Now, what about monument signs? Are those the same as pylon signs? The simple answer is no. Pylon signs and monument signs can be made into a hybrid, but they are not the same. Monument signs are generally no taller than a grown adult, topping at around five foot tall. Meanwhile, pylon signs tower above everything else.
What Makes A Pylon Sign?
Whenever a pylon sign is fabricated, it is constructed to the highest standards in the industry, especially if you choose Tupp Signs. To increase the durability and strength of the sign, most parts are made with aluminum coverings that are welded to a steel frame. Larger sections of metal are reinforced to prevent any oil-canning—also known as the uneven flow of metal on the surface of thin gauge metal product. This ensures your sign looks amazing for many years.
Furthermore, the structural steel within the sign is painted separately from the skins to prevent the occurrence of rusting later on. Pylon signs can also be constructed with real or artificial masonry elements, such as brick, stucco, stone, and more.
The graphics on the acrylic or polycarbonate faces of the signs are usually computer generated to increase the precision and appeal. The plastics used are highly UV-resistant so the color doesn't fade. Additionally, you can expect the sign faces to remain clean and use technologies that make them shine brighter and longer and more efficiently throughout the days.
Common Applications of Pylon Signs
Depending on the sign codes of your area, you might be required to install a pylon sign or something else. Yes, you cannot always decide for yourself what sign is best. However, when you take things into consideration, such as the focal point of the passing traffic, your distance from the road, square footage of your property, proximity to power lines, among other things, you might find that you can use pylon signs to your advantage.
One of the main reasons businesses select pylon signs is for the astounding level of visibility. Because pylon signs can rise above obstructions, they are often used for businesses located around major trafficked areas, like highways, interstates, and bridges. Here are some examples of businesses that use pylon signs:
Motels and hotels
Restaurants
Pubs and clubs
Movie theaters
Apartment complexes
Shopping plazas
Industrial warehouses and complexes
Business parks
Truck stops
Malls
Car dealerships
Gas stations
Retail stores
Depending on the business, the way the pylon sign is utilized changes. Just how do businesses use pylon signs, you ask? The way pylon signs are used provides amazing benefits. For example, they can be used in brand strategies, especially when the sign has the full company name and logo.
Pylon signs are highly customizable and can feature elements like light boxes or LED screens to advertise your business. For example, some businesses may display current events or offers, opening times, products or services, and more to attract traffic. Furthermore, a shopping center or plaza or any location with more than a handful of tenants, benefit from pylon signs because the sign can contain numerous panels or name plates.
What Are The Benefits of Pylon Signs?
As you can tell from previous sections, pylon signs are the ideal way to capture attention of potential consumers, because they are freestanding and visible structures. The effectiveness of pylon signs has even been studied. The University of Cincinnati reported that pylon signs can assist with bring more customers to businesses. Metropolitan banking areas, for example, tend to see a significant increase in money transactions when using a pylon sign.
Another study done by the California Sign Association (CSA) looked at 162 fast food restaurants in Southern California to measure the benefits of using pylon signs. The restaurants that had pole signs saw more business than those that used other kinds of signage. The same study also looked at various Pier 1 Imports stores in the same region and found that additional pylon signage increased store revenue. In fact, the case studies saw a 15 percent growth in sales and other transactions when the business used a pylon sign.
Here are some of the benefits that pylon sign design offers:
Increased visibility: The height of pylon signs is the main benefit. Your business will be more easy to locate, and it increases the chance of newcomers giving you a chance when they drive by.

Cost effective: Since pole signs can be manufactured for more than one business, it is the ideal choice for malls, apartments, and similar locations. With additional features, pylon signs will have a high return of investment (ROI) on both utilities and business profits.

Branding opportunity: In modern times, branding is more important than ever. That is why you need a well-designed sign that can be installed at ideal locations to broadcast your business to your target audience. Once they know where you are, they can come back again and again.

Customizable: Pylon signs can be made with various materials, advertising elements like LED or digital boxes, and can come in numerous designs.

Versatility and durability: Since pole signs do not require anything else for support, these freestanding signs can be used in a number of ways and do not have to stand near the building or business that it is advertising. Because of this pylon signs are taller, wider, and more durable than other kinds of signage. Even if you use decorative shapes and other elements, the materials needed to fabricate pylon signs is resilient and will last for many years.