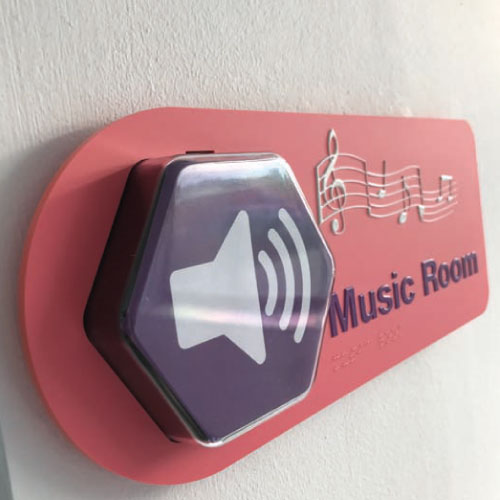 Talky Signs
Jyoti display Pvt. Ltd. distributor of the Talking Signs System for the visually impaired. A way-finding industry leader with over the years experience in construction, we provide full service turn-key furnishing and installation for the Talking Signs System including layout and consulting. Our state-of-the-art technical services and teams of way-finding and mobility specialists always meet current industry and community standards.
Talking signs as infotainment
It is no secret that audio guides are very popular with visitors to tourist attractions.
A completely new form of audio guides are talking signs that transmit any information directly to the smartphone using NFC technology. So without needing a power source or internet access!
Whether in historic city centers, museums and parks or on hiking trails, theme walks and mountain peaks:
Talking signs tell exciting stories, impart knowledge and give helpful tips. While eyes and hands remain free.
So, in summary, digital signage consists of any size screen displaying any type of content for any reason. That's an incredibly broad description and one of the main reasons that the average person looking to install a digital signage network can get easily confused. The other key reason for confusion, of course, is the huge number of vendors to choose we are the perfect for choices.
Talking signs offer info-to-go:
Just hold your smartphone up to the NFC Speech Tag and move right on.
You can listen to the content or even read it yourself whenever and wherever you want.
The SpeechCode app automatically saves the scanned content.
This means that it is available always and everywhere – conveniently on your own smartphone!
Accessible information
Offering information according to the 2-senses principle is one of the requirements for accessibility.
However, blind and visually impaired people are not the only ones, who benefit from this. Functional illiterates, the 65+ generation, people with low language skills, cognitive impairments or reading difficulties – almost 50% of the population have difficulty reading information.
Safety and orientation
Safety and orientation must also be possible for older and visually impaired people.
Tactile guidance systems in public spaces, handrails, tactile signs as well as high-contrast and glare-free color schemes in buildings are good solutions. However, Braille can only be read by about 20% of the blind community and – like tactile pyramid writing – requires a lot of space.
Descriptions of escape routes and interior rooms or safety instructions are simply not possible.
Talking signs with NFC Speech Tags can hold up to six pages of A4 text. This corresponds to approx. 30 minutes of speech output.